VIBCO's Concrete Chute Vibrator kits mount directly to any concrete chute (or charge hopper) to get your concrete flowing.
Our kits are easy to install and our vibrators are easy to run - just push the button! You'll load faster, pour faster and be able to pour any slump concrete at low angles. You'll also be able to do faster clean outs with less work.
We're so confident in our Concrete Chute Vibrators, we offer a 10-Day FREE Trial so that you can try before you buy. A great time to try a VIBCO Chute Vibrator is when you are replacing your main chute, your flip chute or an extension chute. And since our Chute Vibrator kits come with everything you need for installation, you'll be able to start saving money right away!
Costing less than 1 1/2 yards of concrete, our customers have told us their VIBCO Chute Vibrators pay for themselves in less than one month on the job. By saving time and labor costs, and getting more concrete pours done in a day, your truck will be making more money before you know it! Contact your nearest dealer for pricing today, or send an email to VIBCO Vibrators for the name of a dealer near you!
A VIBCO Chute Vibrator will help your business to grow and be more profitable.
Pour low slump concrete and pervious concrete easily

Get on the road faster with more efficient charge hopper loading

Pour concrete at low angles on any terrain without raking

Save labor costs by reducing clean up time & use with your existing concrete washout system for maximum results with lower water consumption.

Load more pours and pour more loads per day
Easy Installation with a Complete Kit
Don't waste time hunting through catalogs or supply warehouses to find everything you need to install VIBCO Concrete Chute Vibrators. Every Chute Vibrator comes as a complete kit including mounting hardware and a power kit. And with fully-illustrated, easy-to-follow installation and operating instructions, installation is a snap! If you still get stuck, help is just a phone call away with our FREE, 24-hour technical support line at 800-633-0032.
Have you seen any of these postcards in your mailbox?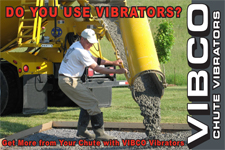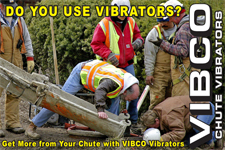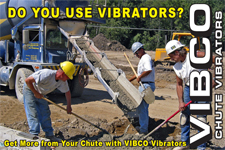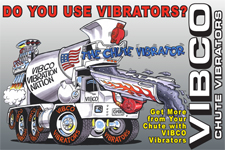 Be sure to send us a reply to get more information about all of our VIBCO Vibrators for the ReadyMix concrete industry. Want to get on our mailing list? Sign up today!